DOST, DENR officials visit agency-funded projects, waste-to-energy facility in UPLB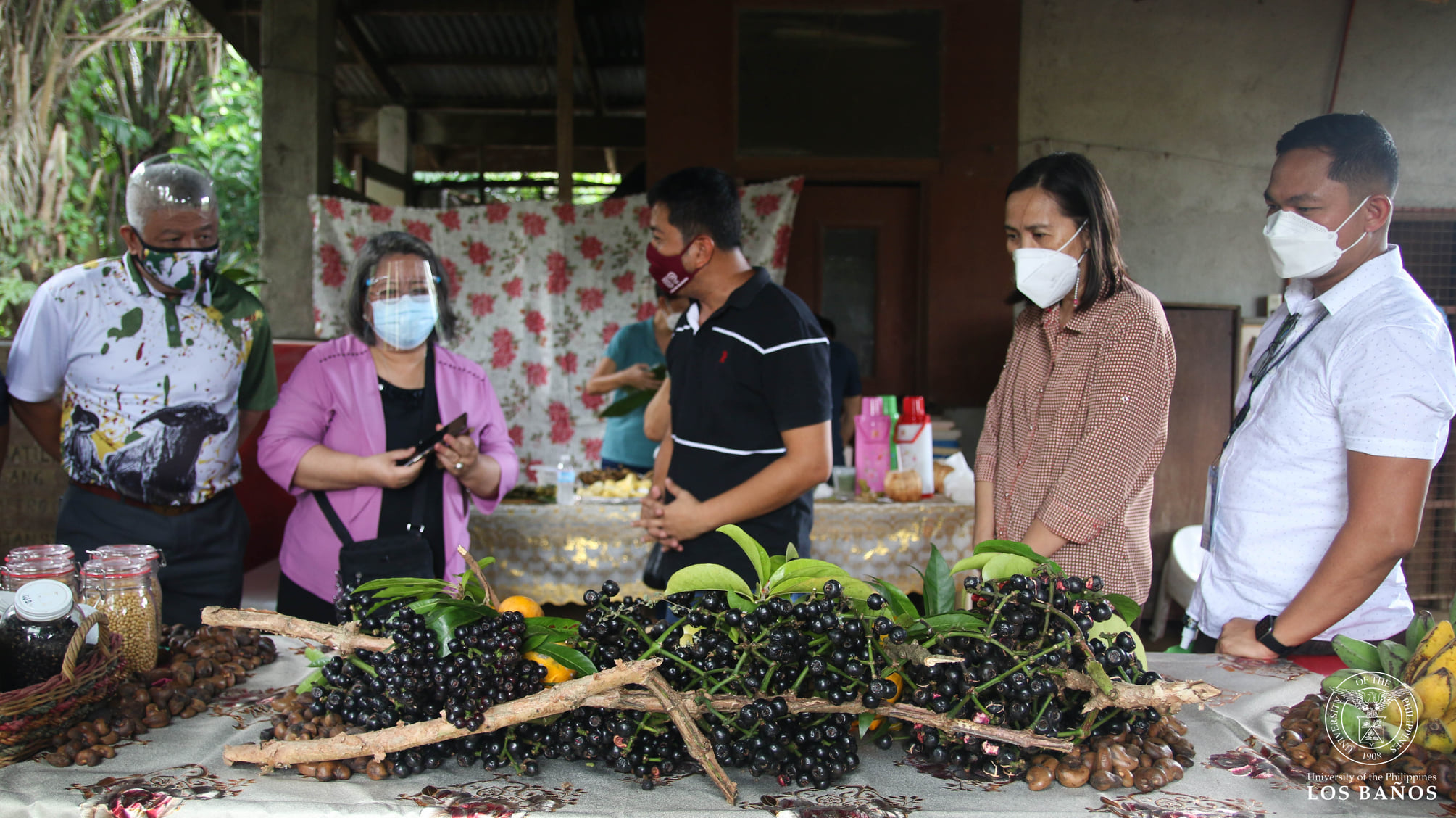 Officials of the Department of Science and Technology (DOST) and its sectoral councils for Agriculture, Aquatic and Natural Resources Research and Development (PCAARRD) and for Industry, Energy, and Emerging Technology Research and Development (PCIEERD) visited projects and facilities that they have funded in UPLB on Oct. 20.
Chancellor Jose V. Camacho, Jr., Vice Chancellor for Research and Extension (VCRE) Merdelyn C. Lit, and Assistant VCRE Fides Marciana Z. Tambalo welcomed and accompanied DOST Undersecretary for Research and Development Rowena Cristina L. Guevara, DOST-PCAARRD Deputy Director for Research and Development Feliciano Calora, Jr., DOST-PCAARRD Deputy Director for Administration, Resource Management, and Support Services Melvin Carlos, DOST Project Officer Bernadette Baer, and other DOST delegates.
Dr. Marilyn B. Brown, director of the National Institute of Molecular Biology and Biotechnology (BIOTECH) welcomed the DOST delegation and presented updates on two technologies, the Protein Enriched Copra Meal (PECM) and FertiGroe Nanofertilizers.
PECM is an ingredient for animal feed that can replace up to 80% of the protein contribution of imported soybean meal without affecting growth performance of swine, broilers and layers, tilapia, bangus, and shrimp.
FertiGroe is a controlled-release fertilizer that helps save up to 50% of fertilizer input for rice, corn, potato, sugarcane, coffee, and banana. It can also improve nutrient uptake of plants, and produce comparable or even higher yield than the conventional nitrogen, phosphorus, and potassium (NPK) fertilizers.
Usec. Guevara encouraged the project team to transfer the technology to the private sector, citing the Department of Trade and Industry's (DTI) Investment Priority Plan, which provides tax incentives to projects that help in the commercialization of patented technologies, products, and services.
"DOST was able to convince DTI to include in the Investment Priority Plan all commercialization of government-funded and DOST-funded R&D. Ano'ng ibig sabihin noon? 'Pag c-in-ommercialize nila yung product ninyo, six years income tax return ng mga kumpanya 'yan, kaya dapat tanggapin nila 'yung terms ninyo," Usec. Guevara said.
She also suggested to the researchers to project the production costs, net income, and return on investment on a national scale so that the public can better understand the advantages of adopting these technologies.
The delegates also visited the facilities for the production of feed ingredients and biofertilizers.
Scientist Fe M. Dela Cueva, director of the Institute of Plant Breeding (IPB) of the College of Agriculture and Food Science (CAFS), and plant breeding experts, toured the DOST delegation at their breeding block for mango varieties, and briefed them on projects on varietal improvement and hybrid development.
CAFS Dean Elpidio M. Agbisit, Jr. and Dr. Lavernee S. Gueco, head of the National Plant Genetic Resources Laboratory, led part of the IPB tour and showcased more than 30,000 accessions of agricultural crops.
Usec. Guevara also visited the Agricultural Machinery Testing and Evaluation Center (AMTEC) for four PCAARRD-funded projects aimed at providing reference testing for agricultural and fisheries machinery, upgrading the center's set-up for small engine testing and facilities for laboratory analysis.
College of Engineering and Agro-industrial Technology (CEAT) Dean Rossana Marie C. Amongo, AMTEC Director Arthur L. Fajardo, and AMTEC Senior Test Engineer Romulo E. Eusebio led the tour, where they also presented their prototypes and innovations.
Dr. Lourdes B. Cardenas, together with the project team of the Philippine Biorepository Network of the CAFS Institute of Crop Science and Institute of Biological Sciences of the College of Arts and Sciences explained to the DOST officials their findings on the diversity of medicinal plant species, and presented to the visitors the descriptor lists that they have developed to help in the characterization of medicinal plant species.
Usec. Guevara suggested a virtual press conference where the project team can share their research outputs to different stakeholders and to the general public.
In the afternoon, officials from DOST, PCAARRD, PCIEERD, and the Department of Environment and Natural Resources (DENR) graced the soft launching of the Waste-to-Energy Facility. This is part of the DOST-PCIEERD-funded project entitled "Establishment of a 25kW Waste-to-Energy Facility via Direct Combustion Process for Municipal Solid Waste" led by Dr. Manolito E. Bambase, Jr. of CEAT's Department of Chemical Engineering (DChE).
VC Lit welcomed the top officials to the program and acknowledged the efforts of Dr. Bambase and his team, as well as the local community they are working with. "I hope everyone here today shares the university's delight and pride in seeing people and science at work with the public, for the public," she said.
In his opening remarks, Chancellor Camacho said, "I am very glad that [the Department of] Chemical Engineering and CEAT are leading this project, which seeks to demonstrate the WTE conversion as a potential step toward energy independence and environmental sustainability."
Science and Technology Secretary Fortunato T. De La Peña also expressed his confidence in the significance of the project, "Maipakita talaga na there is more power generation, that there will be reduction of greenhouse gases, that there will be reduction of landfills."
Dr. Henry A. Adornado, director of the Ecosystems Research and Development Bureau of DENR, also delivered a short message on behalf of Environment Secretary Roy A. Cimatu. "I am looking forward to a sustainable operation of this facility, as part of our step towards our country's goal of energy efficiency and environmental sustainability," Dr. Adornado read.
Dr. Enrico C. Paringit, executive director of PCIEERD, also expressed his hopes for UPLB's WTE technology, as they have been receiving many questions from local government units regarding its potential. "Sa usapin talaga ng waste ngayon ay ang daming sagot ng UPLB, truly impressive. We just have to, of course, put it out there, make it part of everyday conversations among our stakeholders, policymakers, friends from other departments, and within us in the academic community," he said.
A visit to the WTE Facility followed with the top officials from the national government agencies accompanied by Chancellor Camacho, VC Lit, VC for Planning and Development Fernando O. Paras, Jr., CEAT Dean Rossana Marie C. Amongo, CFNR Dean Marlo D. Mendoza, Assistant to the Chancellor and Office of Alumni Relations Director Eileen Lorena M. Mamino, and CEAT executive committee members.
VC Lit and CAFS Institute of Animal Science Director Rommel C. Sulabo also presented to Usec. Guevara two PCAARRD-funded projects on the growth and egg production traits of Darag native chicken and the establishment of a feeding system for the improved Philippine Mallard Duck or Itik Pinas.