DOST, NEDA survey gov't-funded R&D projects in UPLB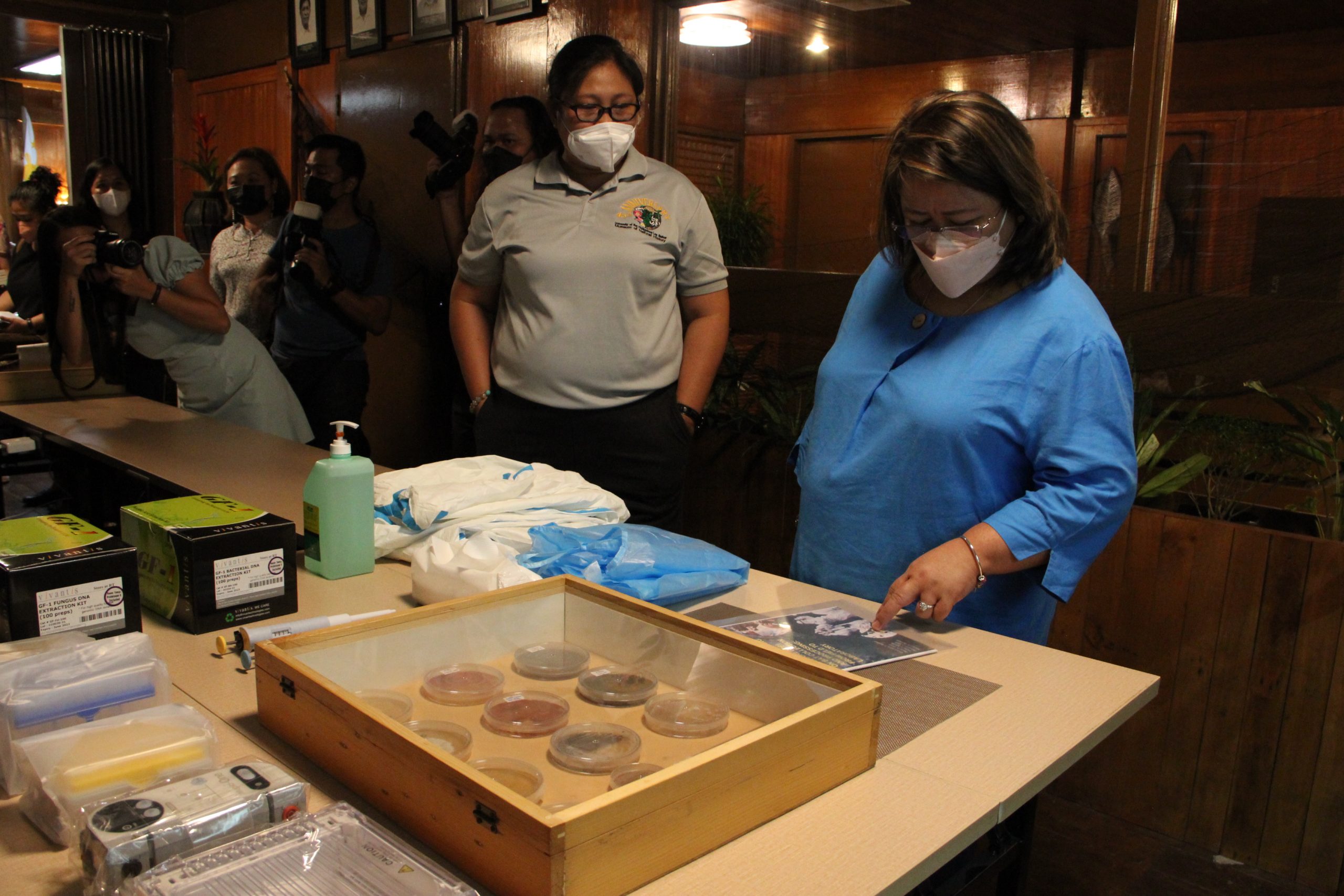 Officials and staff of the Department of Science and Technology (DOST) Central Office, DOST CALABARZON, and the National Economic and Development Authority (NEDA) paid a visit to five DOST-funded research and development (R&D) projects headquartered in the UPLB campus on Tuesday, May 10.
These projects are part of DOST's Niche Centers in the Regions for Research and Development (NICER) and Collaborative Research and Development to Leverage Philippine Economy (CRADLE) programs.
UPLB Chancellor Jose Camacho, Jr., Vice Chancellor for Research and Extension (VCRE) Nathaniel Bantayan, and leaders and staff of the NICER and CRADLE projects escorted the Science for Change Program – Project Management Office (S4C-PMO) delegation, headed by DOST Undersecretary for R&D Rowena Cristina Guevara, DOST CALABARZON Regional Director Emelita Bagsit, and NEDA Innovation Staff OIC-Director Diane Gail Maharjan.
The 2.5-hour itinerary took the guests through interactive exhibits and insightful conversations on a wide variety of topics ranging from bats and insects to medicine and dessert.
From field to laboratory: the NICER CAVES project
UPLB Museum of Natural History (MNH) Director Marian de Leon, presented an overview of the Center for Cave Ecosystems Research (CAVES) and its component projects. According to Dir. de Leon's team, studying the unique environments and abundant ecosystems within and around caves is an excellent way of enriching society's understanding of animal, human, and environmental health.
The project teams are studying caves across the five CALABARZON provinces. Collecting, identifying, and cataloging life forms in these resource-rich areas have promising potential for life-saving innovations, such as in biotechnology and medicine.
Additionally, the project teams are looking at the discovery and description of new bat and insect species found in the project sites.
The extension component of this project involves the capacity-building of communities in the areas through the training of state universities and colleges (SUCs) and higher education institutions (HEIs). "We will teach them the techniques needed from the field to the
laboratory, until they establish their own museums and have their own collections," said Dir. de Leon.
To improve tourism in these areas, local government units and cave guides will also receive education and training on cave ecology.
Additionally, researchers, policy-makers, and students are expected to benefit from the project through its upcoming publication of popularized field guides and coffee table books.
From laboratory to tub: CRADLE's healthy ice cream project
The UPLB Institute of Food Science and Technology (IFST) has found ways to turn ice cream into a relatively healthier snack—an interesting development in a tropical country that is carrying what the Global Nutrition Report calls "the burden of malnutrition."
The project, "Reinventing Ice Cream into a Functional Food Matrix," is a collaboration between IFST and Sugar and Ice Confections, a Zamboanga del Sur-based enterprise.
The research team from UPLB studied and improved on the natural qualities of purple yam (ube) flour so that it creates not only a tasty but also a healthy treat upon combination with the conventional ice cream formulations.
To make the functional food product more accessible to more people, Usec. Guevarra also encouraged the project team to collaborate with bigger local ice cream companies.
From tree to bar: CRADLE's cocoa shell project
A chocolate farm took the spotlight in yet another one of UPLB's partnership with local enterprises from Mindanao. "The Cocoa-loca Project: Development of Functional Food Products and Ingredients from Cocoa Bean Shell Waste" is a collaborative project between IFST and Davao's Malagos Agri Ventures Corporation.
Davao City is the "Chocolate Capital of the Philippines," while Region 11 (Davao Region) is known as the "Cacao Capital of the Philippines."
According to the project team, cocoa shells are waste products generated after cocoa beans have undergone roasting and winnowing (shell removal). This presents an excellent R&D opportunity, as cocoa shells account for 18% to 35% of total bean weight.
More importantly, these shells have been found to be high in bioactives and have the potential to be developed into functional food products, making for enjoyable and nutritious snacks. This is in addition to the project's waste repurposing function.
The study also provides livelihood for chocolate farmers in Davao City and contributes to the robust tourism culture in the area.
From soil to shelves: CRADLE's malunggay project
Moringa oleifera (malunggay) is widely recognized in the realm of herbal medicine. It is also often used as an ingredient in traditional Filipino dishes such as chicken tinola and ginisang munggo (sautéed mung beans). However, there is more to it than just its general nutrient -and-flavor-supplementing properties.
"Moringa oleifera-based Developed (MOD) Nutraceutical Product: Nutritional and Metabolome Profiling" is a joint project of the UPLB Institute of Chemistry, Herbanext Laboratories, Inc., and Pascual Pharma Corp.
Moringa oleifera's antioxidant, antidiabetic, antihypertensive, and breastmilk-inducing qualities make it a valuable player in the campaign against malnutrition and micronutrient deficiency. Yet, very few locally-produced Moringa-based nutraceuticals (medically-beneficial food products or components) are made available to the average consumer. Many of these products in supermarkets are imported, mostly from China and Korea.
The project team is targeting the inclusion of a MOD nutraceutical in the Department of Health's list of medicinal plants and government-authorized superfoods. This ensures that the product is made accessible and affordable—even free—for the public.
From cane to capsule: CRADLE's antioxidant project
The "Application of Natural Antioxidants Derived from Sugarcane for Food, Food Supplement
and Cosmetics Production Formulations" hopes to profile the bioactives in sugarcane (tubo) so that these may be used in the development of antioxidant-rich food and food products, as well as personal care products.
Antioxidants provide cell protection against damage caused by free radicals—a condition called oxidative stress, which has links to various neurological, respiratory, and cardiovascular diseases.
The project is an ongoing partnership between the National Institute of Molecular Biology and Biotechnology (BIOTECH-UPLB) and the Negros Occidental-based Forever Nutriliving Corporation.
The visit to BIOTECH's facilities included a brief presentation of their lab and equipment, as well as a mini-exhibit of their sugarcane-based products: dietary supplements, antioxidant creams, and facial toners.
The project team has also found a way to incorporate antioxidants derived from sugarcane into ground pork, beef, and tocino.
Throughout the campus-wide visit, the NICER and CRADLE project teams recounted how the COVID-19 pandemic affected—and how it continues to shape—the conduct of R&D operations. They also ensured the visitors that safety precautions are always strictly observed.
Usec. Guevara recognized the work that UPLB researchers and their collaborators are doing and reiterated DOST's commitment to extending additional assistance to researchers and staff working on the agency-funded projects.