UPLB explores research opportunities in biomedical sciences with Taiwan's Academia Sinica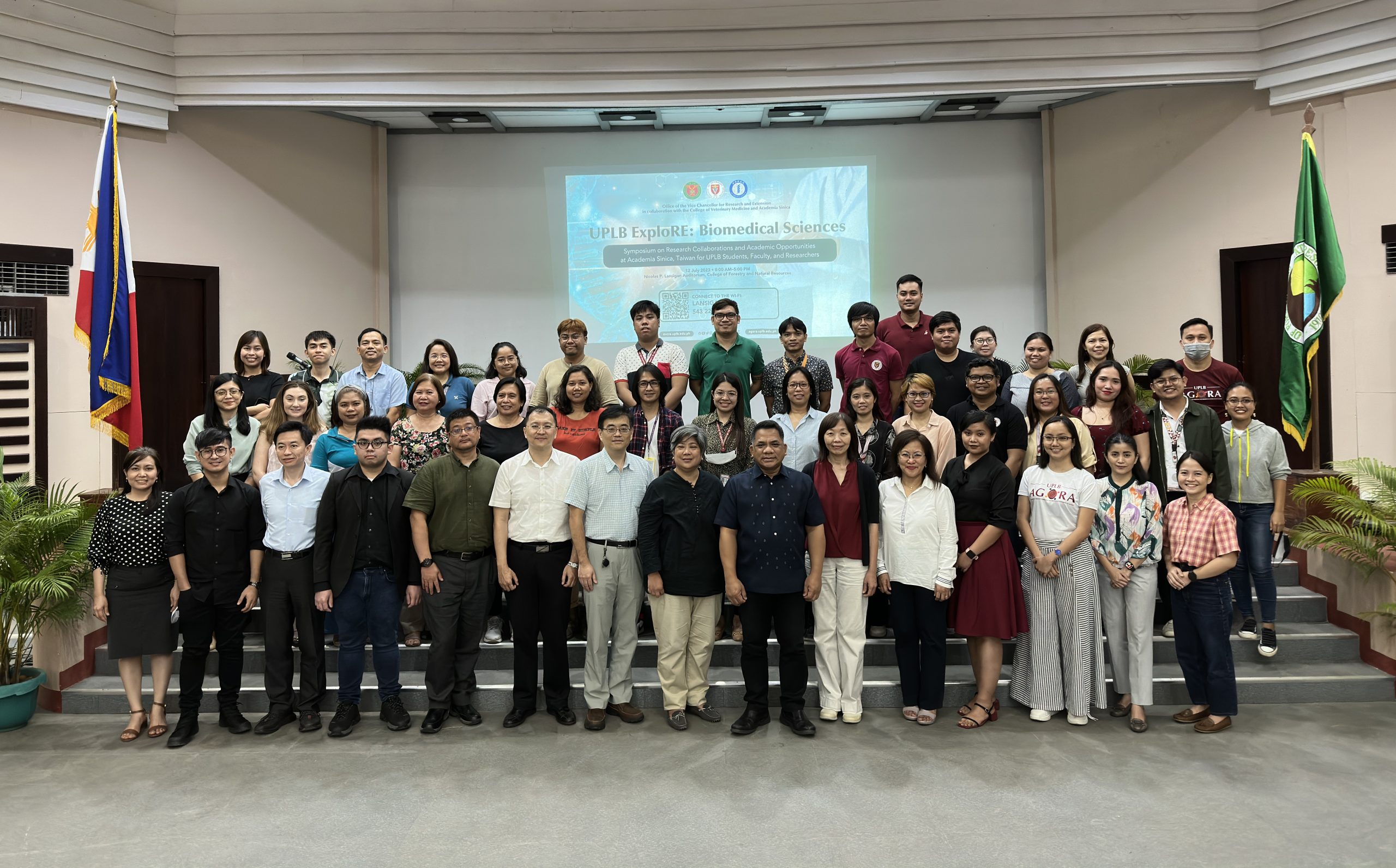 Five experts and two scholars from Academia Sinica, Taiwan's national academic institution, shared their research and expertise on biomedical sciences in a research symposium on July 12.
The symposium, titled "UPLB ExploRE: A Symposium on Research Collaborations and Academic Opportunities", is an initiative by the Office of the Vice Chancellor for Research and Extension to gather local and foreign research institutions to share their R&E breakthroughs and academic opportunities with UPLB researchers and students.
The UPLB ExploRE is a play on the words 'explore' and 'Research and Extension,' with the first installment being a collaborative effort with the UPLB College of Veterinary Medicine (CVM) and Academia Sinica, focusing on the topic of biomedical sciences.
The term 'biomedical' pertains to both biology and medicine. The field of biomedical sciences integrates various disciplines to create advancements in disease treatments, medical technology, and innovations all aimed at improving public health.
UPLB faculty, students, and researchers had the chance to learn about Academia Sinica's studies on immunology, precision medicine, cancer therapy, diabetes, neuroscience, RNA biology, magnetic resonance imaging, and neurophysiology.
Aside from the sharing of research studies, the symposium also focused on identifying possible research collaborations and academic opportunities with Academia Sinica.
In his inspirational message, Chancellor Jose V. Camacho, Jr. emphasized that the symposium is just the start of a greater collaboration between UPLB and Academia Sinica.
Chancellor Camacho envisions a sustained academic partnership, with more UPLB constituents having the chance to experience Academia Sinica's world-class facilities and research institutions.
Ms. Fides Marciana Z. Tambalo, assistant to the vice chancellor for research and extension, highlighted the significance of delving into the fields of biology and health sciences and gaining knowledge from experts in those areas.
"Out of all the R&E projects implemented [by UPLB] from 2021 to 2022, only 21 or 1.4% are primarily categorized as being under the Medical Sciences. This field is full of opportunities and potential that we are confident Academia Sinica, with their well-documented expertise, will be able to help us tap into," Ms. Tambalo said.
Following the messages, Academia Sinica experts led by Dr. Yi-Shuian Huang, division chief of the Institute of Biomedical Sciences, presented her study on RNA Cap modification in brain development. Various modifications in RNA can aid the scientific community in understanding the mechanisms through which diseases evolve, potentially leading to the development of strategies to reduce or inhibit them.
Dr. Dennis W. Hwang, associate research fellow, shared his recent developments in magnetic resonance imaging (MRI) and its importance in medicine. He discussed advanced techniques on imaging and the gaps in conventional MRI that the new technology could address—visualization, characterization, and quantification of biological processes at the cellular and molecular level.
Dr. Yungling Leo Lee, associate research fellow, discussed his research on human adaptive immunity, omics and precision medicine, antigen presenting cells, and vaccine development through models.
In Associate Research Fellow Dr. Shi-Bing Yang's presentation titled "Pathophysiological Mechanisms of Hereditary Diabetes," he discussed the physical and functional changes undergone by a body with hereditary diabetes.
On behalf of Dr. Chia-Wei Li, Assistant Research Fellow, Mr. Jan Vincent Beltran presented the advancements in innovative novel cell therapy for the treatment of solid tumors. Developments in novel cell therapy include the modification of a patient's cells to enable the recognition, replacement, and correction of defective cells.
Mr. Beltran, who is also a UPLB alumnus and currently a scholar of Doctor of Philosophy (PhD) in Molecular Medicine under the Taiwan International Graduate Program (TIGP), shared his research study on the immunological mechanisms that contribute to pediatric inflammatory, autoimmune, and viral diseases. He also discussed the identification of potential therapeutic strategies for clinical translation.
Mr. Simon Miguel Lopez, also a scholar of PhD in Molecular Medicine under TIGP, gave an extensive discussion about developments in molecular photoswitches for Gamma-Aminobutyric Acid or GABAA receptors. Mr. Lopez emphasized the importance of his study in gaining deeper knowledge on mechanisms involving neurotransmitter receptors which could contribute to understanding the role of each molecular and cellular unit in the nervous system.
In the afternoon session, both UPLB and Academia Sinica shared their respective international exchange opportunities and programs available for UPLB constituents.
Asst. Prof. Anna Floresca Firmalino, director of UPLB's Office of International Linkages (OIL), provided an overview of the University's inbound and outbound international mobility opportunities that are open to the faculty, staff, and students.
Dr. Moses Lin, executive secretary of Academia Sinica's Department of International Affairs, Taiwan, introduced the institution's campuses, facilities, research centers, and other state-of-the-art facilities.
Dr. Lin further elaborated on the programs offered by Academia Sinica that are available to international students: the Taiwan International Internship Programme (TIIP) for bachelor and master's students and the Taiwan International Graduate Programme (TIGP) – X for PhD.
Additionally, Dr. Hwang highlighted the array of programs that Academia Sinica's Institute of Biomedical Sciences has. He also acknowledged the exceptional abilities of Filipino students, which serves as further motivation to welcome more students from the Philippines.
The open forum covered various queries from the symposium participants, including advice on increasing chances of acceptance into the programs, distinctions in curriculum, and insights and personal experiences shared by the two PhD students.
Dr. Melissa Marie Rondina, assistant professor from the CVM, also shared that the college has plans to conduct internships for their undergraduate students at Academia Sinica.
The open forum was followed by a special post-symposium session where UPLB researchers and faculty members had the opportunity to sit down and talk to their preferred Academia Sinica professor.
In her closing remarks, CVM Dean Dr. Maria Amelita C. Estacio, conveyed her gratitude to Academia Sinica for sharing their research insights and technical presentations. She expressed her optimism that this session of UPLB ExploRE would be the start of a Memorandum of Understanding between UPLB and Academia Sinica.
The symposium was not the first collaboration between the two institutions. Through the years, UPLB has continuously sent interested students to Academia Sinica for research and mentorship. UPLB encourages its students and staff to undertake international exchange opportunities through the UPLB OIL.