UPLB PZD discusses interdisciplinarity of zoonoses efforts in first face-to-face symposium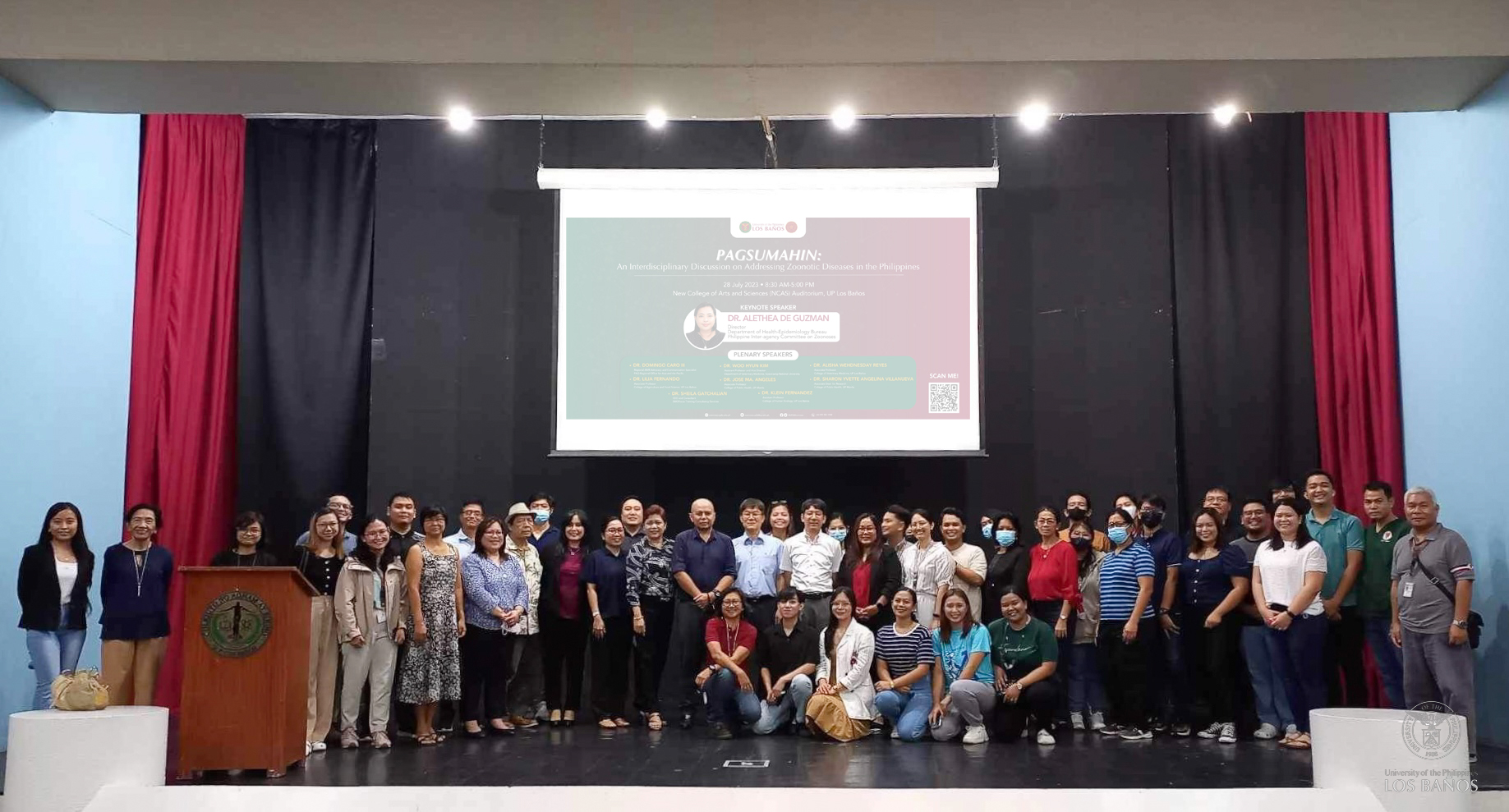 More than two years since its establishment by virtue of the UP Board of Regents' approval, the UPLB Program for Zoonotic Diseases held its first face-to-face symposium titled "PAGSUMAHIN: An Interdisciplinary Discussion on Addressing Zoonotic Diseases in the Philippines" on 28 July 2023 at the CAS Auditorium.
In his welcome message, Chancellor Jose V. Camacho, Jr. encouraged the participants to take advantage of the symposium by asking questions to the experts and broadening their knowledge on zoonotic diseases and its global and national status.
The PAGSUMAHIN Symposium was also jam-packed with eight speakers who discussed zoonotic diseases in relation to different disciplines and studies such as risk communication, surveillance and response to Highly Pathogenic Avian Influenza, nanobiosensors in plant pathogen detection, food safety, One Health and control of zoonotic schistosomiasis, animal brucellosis, leptospirosis, and social sciences.
Dr. Alethea De Guzman, Director of the DOH-Epidemiology Bureau which also serves as the lead agency and secretariat for the Philippine Inter-agency committee on Zoonoses, emphasized in her keynote speech the importance of expanding surveillance systems and harnessing information systems to strengthen the country's response and preparedness against emerging zoonotic diseases.
The experts who served as plenary speakers were: Dr. Domingo Caro III (UN FAO Regional Office for Asia and the Pacific); Dr. Woo Hyun Kim (Gyeongsang National University); Dr. Lilia Fernando (UPLB Institute of Crop Science); Dr. Shiela Gatchalian (SMG Focus Training Consultancy Services); Dr. Jose Ma. Angeles (UP Manila College of Public Health); Dr. Alisha Wehdnesday Reyes (UPLB Department of Veterinary Paraclinical Sciences); Dr. Sharon Yvette Angelina Villanueva (UP Manila College of Public Health); and Dr. Klein Fernandez (UPLB Department of Social Development Services).
In the closing ceremony, Dr. Emilia Lastica-Ternura (UPLB PZD OIC Program Director) thanked the resource speakers and symposium participants and shared her hopes in working with them again in the succeeding activities of the Program.
PAGSUMAHIN was attended by over 20 different state universities and colleges, higher education institutions, national government agencies, organizations, and private institutions.